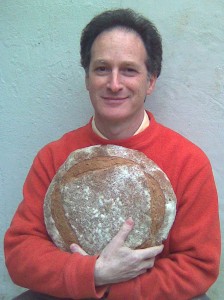 Wild Yeast Bakery is run by Simon, who has generations of bread history behind him. Simon ran Wild Yeast as a specialist sourdough bakery for nearly three years, with business partner Peter, before stopping regular commercial baking, to focus on teaching and consultancy.
Wild Yeast Bakery was a huge success due to the uncompromising quality of the bread. We were chosen to represent Wales for the St David's Day meal at the House of Commons; we've been talked about on Radio Wales and The Food Programme; and have many loyal fans such as first minister Rhodri Morgan, who called our Cardiff Sourdough 'a work of art'. We've also appeared on Ready Steady Cook as a bread expert and have been a Metro Local Food Hero.
Basically, I'm passionate about good bread. I like to make it, eat it, and bore anyone rigid who's silly enough to stand in one place for too long and listen to me talk about it.
I come from London and now live in Cardiff. My great aunt Sophie was a Russian Jewish emigré and I remember squeezing into her tiny kitchen in the East End, where she would perform the most amazing baking feats. Combined with former partner Peter's German roots,  Eastern European breads were one of the key influences for Wild Yeast.
Simon is also a food enterprise advisor and a director of f3 – the local food consultants. He believes strongly that traditional food production has a profound effect on health, and that trading locally helps everyone in the local economy.  He is also involved as a director of RCMA which runs the farmers' markets in Cardiff, and Riverside Market Garden which is a community owned horticulture enterprise.