Free for one day only:

  The Secrets of Artisan Baking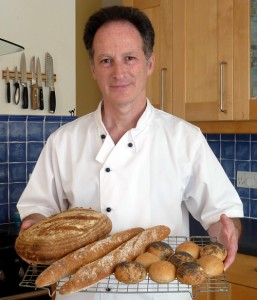 On Saturday 18th March we're streaming our online bread-making course as a free live webinar!
In this course Simon shares his experience of 30 years of baking and insights from running the highly successful Wild Yeast Bakery. The course comprises 9 videos, including:
1 – Course introduction (see first video below)
2 – Ingredients and equipment
3 – Making the pre-ferment
4 – Mixing there dough
5 – Starting the kneading process
6 – Completing the kneading and first proofing
7 – Shaping
8 – Final proofing
9 – Baking
We're running the videos in sequence on Saturday 18th March, starting at 9.30am. On that day Simon will also be available to ask questions via online chat. There will be replays that evening at 5.30pm and also on the 22nd March.
If you want to get your breadmaking to the next level, and talk direct with Simon, this is your chance!