Buy a live, reliable sourdough starter culture.
Dried cultures can be very difficult to activate, so we only sell fresh, live sourdough starter cultures which are very reliable and easy to get going.
We offer two well-proven sourdough cultures from around the world, as used in our own bakery, which are ready to use within 24 hours.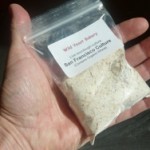 The San Francisco and Russian cultures are at least 30 years old, and probably much more!
Each comes with instructions on re-activating the starter culture and some basic bread recipes. Compostable package.
Currently unavailable (June 2022)
Short video about the culture and how to activate it
You can order your cultures now
(so there can no excuses now not to make superb artisan bread!)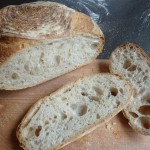 Here's our most popular –
the San Francisco. We got this culture about 20 years ago in the USA, and it has been exceptional for both commercial and home use. 
Can create a mild taste with warmer proving (max 30C), or can get really sour if you put in an additional cool proving (just de-gas, re-shape and wait for the rise).
Great for open textured wheat breads of all kinds, and very reliable. Cost is £13.99 including postage (UK only).
Currently unavailable (June 2022)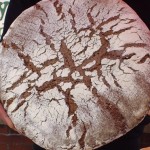 Our other essential culture is the Russian. We got this from the Village Bakery, who sourced it direct from a small wood-fired bakery in Moscow about 40 years ago.
Great for rye, spelt, seeded breads and where a heavier workload is needed! Seems to work more quickly than most cultures we've used, and can work well in a cool environment (15C+).
Has a delightful citrus tang. Activiates quickly.
Cost is £13.99 including postage (UK only).
Currently unavailable (June 2022)
Postage: is by first class Royal Mail.  We cannot guarantee our cultures when posted overseas so we're not taking orders from outside of the UK.