Wild Yeast Bakery: 

Breadmaking courses, online bread courses, sourdough cultures, baking equipment and consultancy  

___________________________

Formerly artisan bakers, we now run bread courses and sell starter cultures, bannetons and other essentials for the serious baker.

"Hi, I'm Simon. I'm nuts about real bread. My mission is to help you to bake bread as well as I do."
PS – check out my new online bread course
One-day Breadmaking Courses. Join us for a fantastic day out in our lovely bakery overlooking the River Severn in the Forest of Dean. Learn about traditional baking and sourdoughs, and come home with a huge basket of impressive bread and full notes and recipes.
Online Breadmaking Courses.
Watch our videos and download course notes when it suits you – and view again and again! Our first course, 'The Secrets of Artisan Baking', illustrates all the key tips for making the best bread you'll ever eat. Join our forum to learn more.
Sourdough Cultures.
Buy a live, reliable sourdough starter culture here. Dried cultures are difficult to activate, so we sell fresh, live sourdough starter cultures which are very reliable and easy to get going. We sell three types, all used with great results in our artisan bakery.
Breadmaking equipment.
We sell things which we feel are important, yet sometimes hard to find. Includes bannetons (proofing baskets), temperature probes, scrapers, and lames (slashing knives).

Latest from the bakery: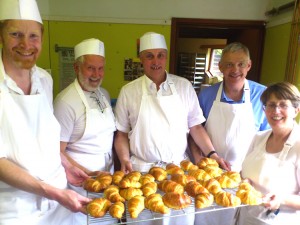 Lovely group of bakers last weekend on our
sourdoughs with a French twist day.
The croissants were to die for!
"Just a short note to thank you for a great
bread-making course last weekend.
I can't wait to put my new skills into practice-
once we've got through our amazing basketful!"  GD

Consultancy

We also provide consultancy for bakeries, cafes and restaurants
who want their bread to be as good as their food!
We've advised on everything from making the perfect sourdough pizza
to how to lay out an in-cafe bakery.